Hello family and friends! I know that I say this every time, but I cannot believe that another week has passed and it's time to write you all again! Actually, as I am typing this to you, I am sitting in the Garden of Gethsemane, contemplating the Savior and His infinite sacrifice. I have been given such a rare opportunity to study here, and I am so grateful for the experiences that I've had thus far! This week has been especially full of spiritual moments and awakenings, so this will probably be long. :)
Let me start out with last Saturday, June 19. After I wrote you all, we had a fireside by an area authority 70, Elder Kacher. His devotional was amazing, and one thing that he said really got to me. He said (essentially) that we have to have the faith and courage to say "Thy will be done." As I said, this struck me. After I wrote that email a couple of weeks ago about not going on a mission, I just had this little tinge of guilt that I hadn't asked yet. I have been avoiding asking about whether or not I was going to go for the past few months just because I didn't want to get a yes! After the devotional I called my mom and just started crying because I felt so guilty that I hadn't asked and scared that if I did I would actually have to go! The more I talked it out, I decided that I just needed to ask, to have this done forever, and just know whether or not I was going to serve a mission. I really pondered about my feelings, and that night I took my question to the Lord. I basically told Him that I didn't want to go on a mission, and I felt like it wasn't the right thing for me but I needed His approval before I could move on. I asked for His guidance and spirit to be with me so that I could know His will for me and have the courage to do what He has planned for me. I ended my prayer, and then I decided to read some scriptures. I randomly turned to 2 Nephi 9. The first couple of scriptures I read basically told me that I had the choice and that the Lord knew the feelings of my heart. I felt very comforted at that. And then I read some scriptures towards the beginning of the chapter. Those said that our days should be spent serving God, and that there is a great importance to brings these words to all the earth. Let's just say that I was super confused! I felt like I was getting mixed messages, so I decided to just go to bed and think about it the next morning. The next morning after my run I read those scriptures again, and it just all clicked in my head! I do have the choice of whether I want to serve a formal mission or not, but whatever I do I just need to make sure that my first priority is serving the Lord. As soon as I had that realization I just had this wave of peace rush over me – it was probably the most powerful peace that I've ever felt. I was so touched by the Spirit and so grateful that I now knew what the Lord wanted me to do. That night I also got a blessing from my home teachers, and everything that I had felt that morning was completely confirmed. I was told that God is pleased with my decisions and that I will be blessed with confidence to do the Lord's will. Therefore, I FOR SURE will not be serving a mission at this time, but it is so nice to just know and not second guess myself about what the Lord has in store for me. I am so grateful for personal revelation and the ability I have to know God's will for me. It was a great start to the week.
Sunday June 20 was our field trip to Yad Veshem which is the Holocaust Memorial here in Jerusalem. It was a very poignant and sad experience. After the tour, I was very sad and a little burdened by the pain and suffering of the people that I had just learned about. I said a little prayer just asking my Heavenly Father to bless me with peace, to know that there is still hope in the world. As soon as I ended my prayer, I had this thought come to me that I had never ever thought about before: Christ suffered EVERYTHING that those people went through, not only their physical suffering of hard labor, hunger, and death, but also their emotional hurt from losing their families, watching their children be torn from their sides, knowing that they will never see their families in this life again. Once I had that realization the atonement took on a whole new meaning and aspect for me. I am so grateful to know that Christ willingly suffered for each one of us so that He knows how to succor us and bless us with peace. I'm grateful that I was able to learn about the Holocaust and to know that even though it was a horrible time in the world, there is hope through Christ.
This is the Hall of Faces within Yad Veshem. It shows 600 faces of people who died in the Holocaust. They got their pictures from the concentration camps themselves.
Monday June 21 was our free day. I went with a small group to the Dome of the Rock again which was cool.
Every single time I go I am still amazed and how civilizations praise their god and build monuments to Him. I also got a package from my mom that night which was so great! It's always great to get stuff from home. :)
Tuesday June 22 we had class for seven hours in preparation for our finals this coming week! I have two on Tuesday, two on Thursday, and one on Friday. I should be able to do fine especially because I have started my studies fairly early. I'm feeling pretty ready, but any of you ever think about or pray for me, just pray that I can do well this week. :) That would be so wonderful! Anyways, that night we got to hear a story from a Holocaust survivor!
His story is very different from other survivors' stories because he was in 9 different concentration camps! He was a worker that just got moved from camp to camp for 5 years. His entire family died in the Holocaust, his dad from starvation and the rest of his family by mass extermination by firing squad. The thing that really impressed me about him is that he is still so happy and positive about life! It would be easy for him to be bitter about what he went through, but he really does accentuate the positive and make his life as best as it can be.

Wednesday June 23 was also full of class and studying, but that night we had a forum from a British journalist who is foreign correspondent over in Jerusalem for a number of newspapers/magazines such as Time, New York Times, Boston Chronicle, Newsweeks, etc. He was hilarious which made the evening fun.

Thursday June 24 was also full of class, but that morning we had our Galilee orientation!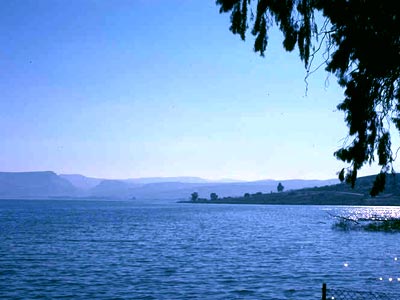 In about a week and a half I will be on my way to the Galilee to lay on the beach for 11 days while learning about my Savior and His ministry there. Super awesome. That night was also our seder meal. Seder is the Passover meal that Jews have every Passover season.
We had a very authentic meal – my teacher said that our meal was probably way more authentic than most Jewish families do. It was really cool to see how this event corresponds to the Lord and how it relates to Him, even though the Jews don't believe that Christ was the Messiah. Anyways, it was a cool cultural experience that I will probably never have again.

Friday June 25 was a fun day. We had class that morning and then that afternoon I did that service project again. That's always fun. Later that day a small group of us just decided that we needed to get out of the Center and not study for a while. We randomly went to a place called Absalom's Pillar which is mentioned somewhere in the scriptures. After that we went to the Church of All Nations on the Mount of Olives. This church claims to have the actual stone that Christ bled and suffered the atonement on. Pilgrims come from all over the world, lay down, and kiss this stone. Some of them were very emotional, and they were just weeping as they were kissing the stone. Even though I don't personally believe that that exact spot was where Christ suffered, and I also don't believe that I should really pay tribute to Christ by kissing a stone that He suffered the atonement on, but the 'tourist' or 'pilgrim' in me got me to lay down and kiss the stone.
That may be irreverent, but it was a cool experience. After that we went to a place called Dominus Flevit which is where they say that Christ looked over Jerusalem and wept. Again, I don't know how historically accurate that it, but it does have a great view of the Old City and I could totally see Him looking over Jerusalem from that point.
We were only gone for about an hour and a half, but it was a very productive afternoon that took me to some sights that I hadn't been to yet.

Today, Saturday June 26 has been a great Sabbath, as always. We had a great lesson in Relief Society about the scriptures based on Elder Christofferson's talk this past conference. It really got me thinking about my scripture study and my testimony of the scriptures. Let's just say that my testimony of the scriptures grew a ton after my experiences earlier this week. And now I'm sitting in the Garden of Gethsemane writing this to you all. Like I said, Sabbath is always a great day. :) I love being able to totally focus on the gospel and Christ and everything that happened in this land. I am so blessed!
Well everyone that was my week! I hope you're all doing well! Keep the faith and be good! :)